eCommerce simply means buying and selling goods over the internet.
Hence, if you have a traditional or digital store selling products, eCommerce content marketing is one of the main ways to promote your products at a lesser cost than traditional marketing methods.
The average cost of the marketing budget for SMB's ranges from 20,000 to 1,00,000 per month. At this cost, it is difficult to gain much traction with traditional marketing methods like advertising in television, hoardings, etc which are much costlier.
Hence, eCommerce Content marketing would work best for smaller businesses as you can promote content related to your products and drive traffic to your store.
Now that we have established that we need eCommerce content marketing to promote your business, how do you create a unique content strategy for your business that would help you grow your audience and promote your products?
Creating an eCommerce content strategy can be easily broken down into these steps.
Research Target Audience for eCommerce websites

Find the best platform where your target audience can engage with your content

Select the best content types that would work for your business

Do Content Repurposing and Content Distribution

Use Landing Pages to promote your products

Include eMail Marketing to gain trust with your customers

Use SEO techniques to rank your pages organically
As Seth Godin rightly put it about Content Marketing
"[Content Marketing] is all the marketing that is left"
Hence, it is very important that you include content marketing as one of the key strategies of your marketing efforts.
As it is also well known that when people fall in love with your content, they fall in love with your business.
Research Target Audience for eCommerce Website
The first step to do to create content for your business is to research the target audience for your business. Many people underestimate the importance of this step and directly go to the next step of deciding which platforms should they promote content on.
But until you describe your target audience clearly in your mind, you will be talking to a mixed category of people and then keep wondering why you are not getting sales from your content marketing efforts.
For example, if you are trying to sell platinum jewelry primarily for women belonging to age groups of 20 – 45, but your content talks to people of age groups, it makes no sense.
But if your content is written keeping in mind the particular profile of the people you are trying to sell your product to, then it makes sense and you can attract the right audience for your business.
Best Platform for eCommerce Website
Once you have created your ideal customer profile,  then you decide on which platform your target audience hangs about.
For eg., in general Facebook and Instagram is a good place for B2C businesses whereas LinkedIn strategy works best to grow your personal brand or attract B2B businesses.
Facebook groups can also be created where you engage your audience on a regular basis and grow your customer base.
MySpace is also a good space to target a younger age group and 71% of their users fall within the 18-35 age group.
A good platform to market your eCommerce business would therefore be to use Facebook, Instagram, Whatsapp, and Pinterest.
Product-based businesses can benefit from the instant success of Shopping ads, product pins, and collections on Pinterest.
Types of eCommerce Content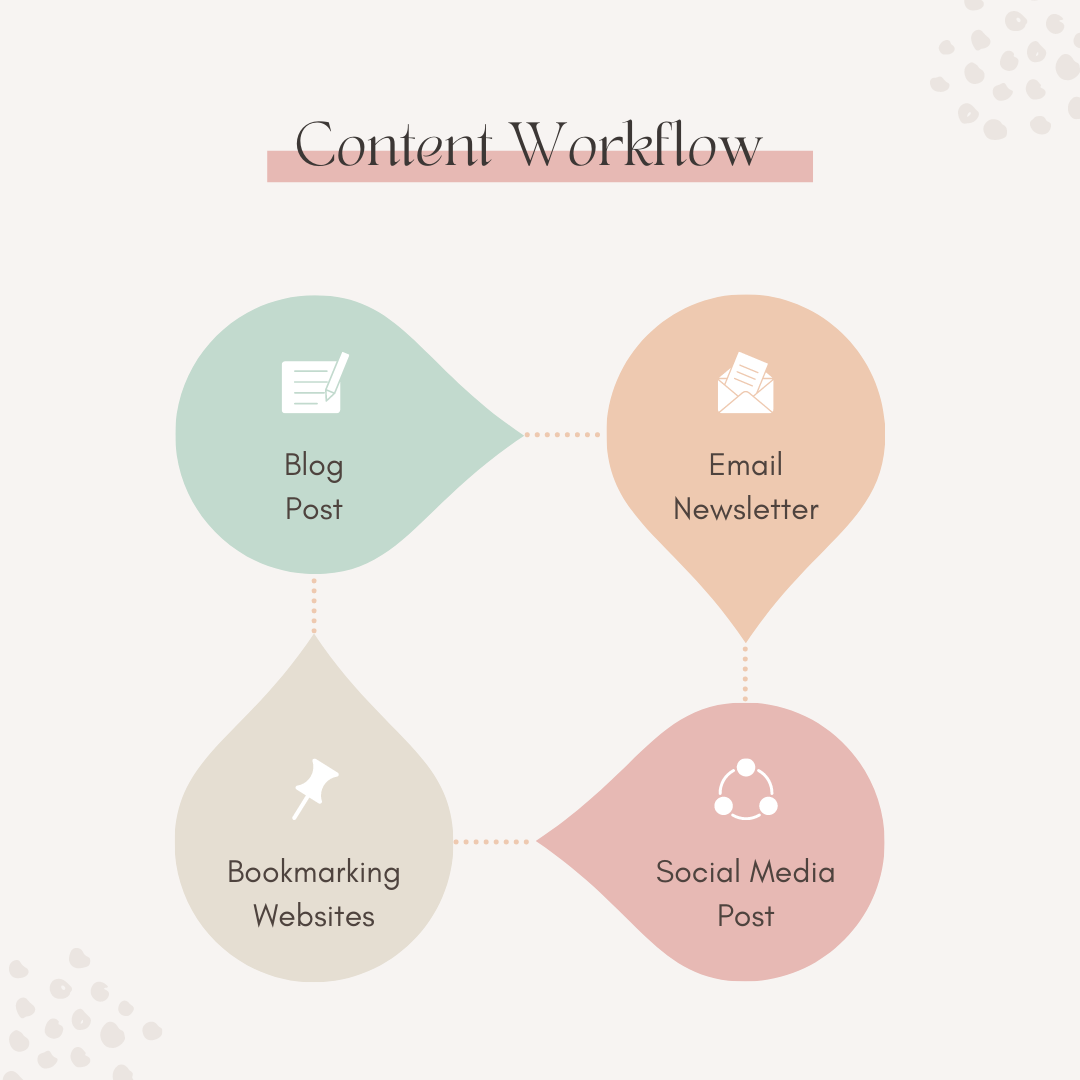 Once you have decided the platform where you are going to promote your eCommerce products, the next step is to decide on the type of content for your eCommerce content marketing.
These content types work best for an eCommerce business.
Blogs

Product Videos for eCommerce

Testimonial Videos

DIY videos

Custom images for your posts

How-to-use Product articles

Landing pages for Products

Copywriting for eCommerce Pages
Blogs add authority to your eCommerce marketing strategy. Once people start liking your content, you can use SEO and other marketing techniques to direct your traffic to your store.
Some blog ideas for eCommerce websites are – How-to-use product blogs, DIY articles for your products, and Case studies of using your products.
The best content to go for your eCommerce content marketing is Video content. People love to engage with videos and they can develop trust with your brand through video content.
How-to-use Product videos, Video testimonials, and DIY videos can be created for your brand. It is also a good idea to generate custom images for your products and brand and use them in blogs, posts, emails, etc.,
Using landing pages for an eCommerce website to promote particular products can also be a good content strategy plan. You can then hire copywriters to create the right content to promote your products on a Landing page.
Copywriting is an important part of your sales strategy and using the best copywriting for eCommerce like for your category pages, headlines, product descriptions, etc., can further your sales and help customers convert.
Content Repurposing and Content Distribution
Content repurposing and content distribution should be planned ahead and included as part of your eCommerce content strategy. This plan would help you to structure your marketing efforts and create the right bandwidth for your business.
For eg., a DIY blog can be restructured into a DIY video, DIY post, and a DIY email.
Similarly, you need to repurpose all your content and distribute it across multiple platforms to derive maximum benefit from your content marketing efforts.
A good weekly Content Repurposing plan or an eCommerce Content Marketing plan would look like this:
Monday – Create a How-to blog about a product in your store- Repurpose it into a social media post, an email copy, and an Info video.

Tuesday – Share testimonials about the product on your Website pages. Repurpose it into a video for social media and as an email copy.

Wednesday – Create a blog about the benefits of using your product – Repurpose into an infographic for Pinterest, social media post, and an email copy.

Thursday – Create a seasonal Landing page for one of your products and share it on your social media to increase your customer base. Share the Landing page to your existing customers through eMail marketing with special discounts to buy the product.

Friday – Create a brand video, promoting only your brand and its unique USP and repurpose it into a blog and a case studies text.
Sounds like a solid plan !!
This is how you restructure your content across multiple content types and multiple platforms to attract more customers for your business.
Once you have a solid eCommerce content marketing plan like the one above, you just need to follow the plan and see results.
How to do eMail marketing for eCommerce
The different kinds of eCommerce email marketing funnels would be :
Welcome emails

Abandoned Shipping cart mails

Educational emails

Seasonal Discount mails for existing customers

Promotional sales email for all subscribers

Feedback/survey emails

Birthday mails

Upsell and cross-selling mails

Thank you and confirmation emails
You need to create different email marketing funnels for each kind of mail based on when the user takes an appropriate action like subscribing to your list, browsing a product page, adding items to their cart, or placing an order.
You can use Hubspot, Convertkit, or Sendgrid to create effective email marketing funnels.
SEO for eCommerce
You need to use the right SEO strategies so that your business will rank organically and gain more customers.
Discovering new customers is an essential part of marketing and hence SEO is an important technique to be used along with your content strategy.
You first need to research the top-ranking keywords for your business and target these keywords on your product descriptions, landing pages, blogs, and category pages to rank for the same.
For eg., Big basket ranks for the keywords "online grocery store" and online grocery shopping".
Hence, you need to identify the top-ranking keywords for your business and target the same keywords across blogs and website content to help your site rank organically.
Other eCommerce Content Marketing Strategies
Once you have a solid eCommerce content marketing plan in place, you can also use other strategies like influencer marketing, subscription boxes for products, and invitation to attend events to further your marketing plans.
Influencer marketing for eCommerce simply means celebrities or Youtube creators sharing your brand's products for a premium amount to their subscribers.
Since they have a large following, it is a much better method to showcase your product to a large audience than creating paid ads for your products.
Once you have established yourself as a good brand, you can also contact other publishers similar to your brand and publish an article about your brand growth which creates authority for your brand