Facebook has an average of 2.89 billion monthly active users as of the second quarter of 2021 which makes it the largest social media network worldwide.
Hence Facebook Ads is one of the top paid strategies to get leads and customers for your clothing brand.
In a 2020 study, it was seen that Disney was the largest advertiser on Facebook with an estimated ad spend of 213 million US dollars. Other Brands that topped the list were Samsung, P&G, Microsoft, and AT&T.
Depending on the size of your business, companies spend $200 to $800 on an average on Facebook Ads every month.
We will now look at the top Facebook Ad Strategies employed by different clothing brands to grow their customer base and get clients.
Myntra
One of the Facebook Ad strategies most of the top clothing brands use and is used by
Myntra
too is Influencer marketing. They hire leading influencers and shoot videos of them to market their brands. For example, the below ad examples show influencers  Hrithik Roshan and Samantha Akkineni promoting the Myntra brand.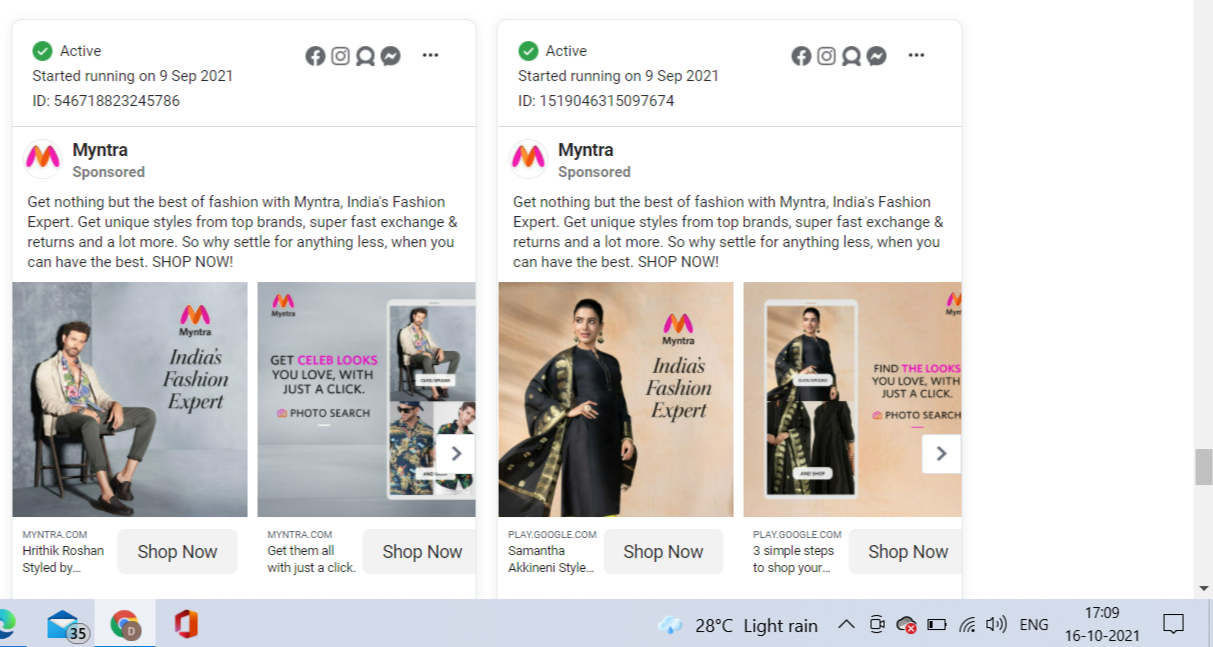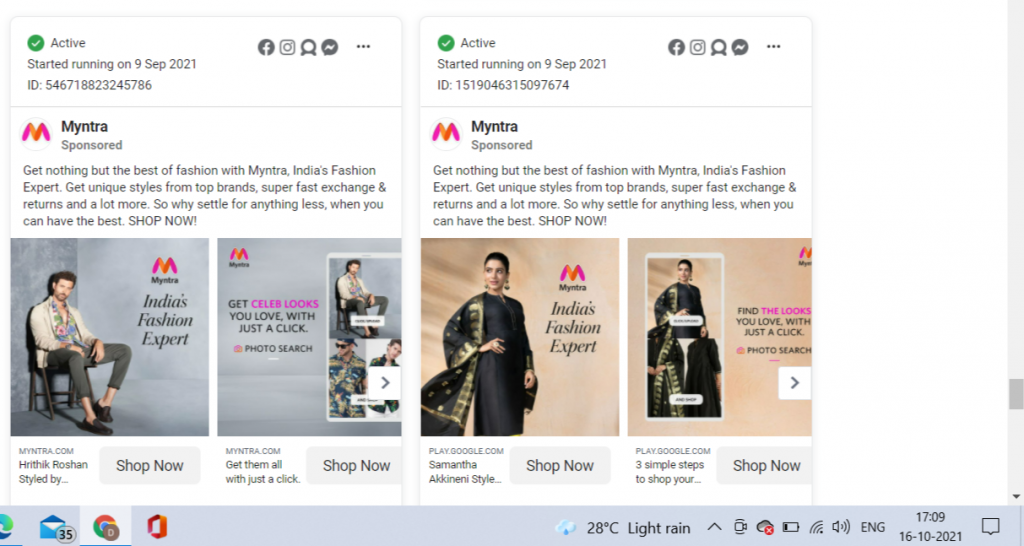 When influencers market your brand, it gives you a brand value and people start trusting your products. 
Myntra has around 250 influencers TV stars, Bollywood stars, micro, and nano influencers. Most influencers have a wide following on social media and also they have followers from a younger age group, so this type of marketing works great for Myntra.
Myntra has also launched
Myntra Studio
which is a one-stop content destination for the latest fashion to keep their customers engaged and hence drive more sales. They also use several ads to promote viewership through sharing fashion trends on Myntra Studio.
They also have their online reality show –
Myntra fashion Superstar
to identify social media fashion influencers. These are hosted by leading influencers like Sonakshi Sinha, Sushmita Sen, etc.,
Different brands use different brand ads for different purposes. For eg., Myntra uses a large number of App install ads that pushed customers to download the app which would then encourage them to take further action.
An example of this type of ad.
Another type of Facebook ad strategy used by most clothing brands is seasonal ads. For eg. An ad to promote IPL t-shirts during IPL season. When these ads are targeted with the right audience group, you can get more conversions in a limited amount of time.
A unique Facebook Ad strategy used by Myntra is Myntra Big fashion sale or ads that promote discounts. If you search for Myntra Coupon code on the internet, you will get a lot of coupon codes at any time. This is because Myntra has a huge list of influencers with distinct coupon codes for each sale.
Lifestyle Stores
Lifestyle
is an Indian clothing and fashion brand and uses a mix of online and offline marketing techniques to promote its brand. They primarily use Facebook Ad strategies for getting local traffic. This type of Facebook Ad strategy is also called hyperlocal marketing. Lifestyle uses two types of campaigns to promote in-store visits. One type of campaign promotes consideration and discovery while the other type promotes conversions.  In the consideration ads, Lifestyle targets people around their stores to promote interest in the brand. In the conversion ads, Lifestyle drove conversions by retargeting people who have already visited their store, by using a combination of carousel and video ads thereby promoting a lot of in-store visits. Their in-store visits increased tremendously by using such Facebook campaigns.
An Ad example of lifestyle stores
As you can see, their ad examples promote buying online, buying through their app, and also visiting their nearby stores to buy offline. Another Ad type is shown by Lifestyle where they are directly sharing the promo code and discounts in the ad copy.
MAX FASHION
Max fashion is an Indian clothing brand that has its stores primarily in India. Max fashion uses each Facebook ad to primarily promote particular merchandise.
For eg., an ad example to promote only Lehangas for kids or an ad to promote only Kurtis for women.
They also use Ads to promote discount sales and festive sales, especially during Diwali.  Specific ad creatives with posters showing huge discounts also give good conversions.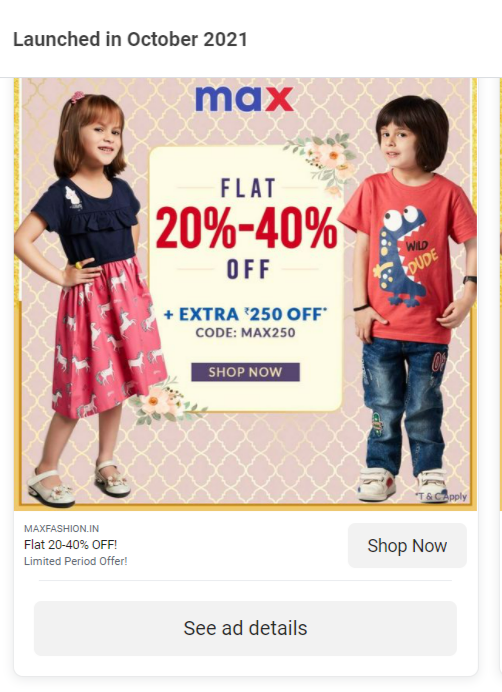 They also use a couple of video carousel ads to show their merchandise. However, they do not use influencer marketing. They also have ad formats where they share promo codes for different discounts in their ads themselves, just like for Lifestyle stores.
SUMMARY OF FACEBOOK AD STRATEGIES USED
If you look at the Facebook ad strategies used, we can summarize that the best Facebook ad strategies used by these brands to promote their products were
Influencer Marketing

Festive promotions

Hyperlocal marketing to promote in-store purchases

Promo codes and discount ads

Ads for App installs
CREATING A FACEBOOK AD STRATEGY FOR YOUR NEW CLOTHING BRAND
Using the case studies above, we have understood the Facebook ad strategies used by top clothing brands and you can mirror the same kind of ads for your new clothing brand too. If you are launching your own clothing brand, you too can use these steps to set up your Facebook ads and start promoting your products.
STEP1
Plan a launch party for your brand using a Facebook LIVE event and advertise to people in your location asking them to attend. Start a Facebook page and start promoting your products through social posts. Setup a Facebook Pixel on your store to track people visiting your page.
STEP2 
Create Facebook Ads to promote your products using a variety of consideration and retargeting campaigns. Consideration campaigns can be either Engagement or Brand awareness campaigns and retargeting campaigns can be to target people who have already visited your store.
STEP3 
Setup a popup store and advertise to users around your location encouraging them to visit your store.
STEP4 
Create a lookbook, turn it into a video and promote it to people interested in your designs.
STEP5 
Use Influencer Marketing to promote your brand. If you are just starting, you can use micro and nano influencers to promote your brand.
STEP6 
Promote Special Discounts and Festive sales through special promo codes in your ad copies.
These are the Facebook Ad strategies that you need to know to set up and start promoting your clothing brand. Apparently, the success of these Facebook ads also depends to a large extent on several factors like your ad copy, ad image, targeting options used, and the budget used.
Are you having a clothing brand and want to promote your store through Facebook Ads.
Reach Out to us if you want us to plan and implement a Facebook ad strategy for your store. You can also combine it with
content marketing
which can be used to promote your website and your Facebook page.