Let's start with a simple definition.
Ecommerce simply means the buying and selling of goods and services over the internet.
Hence, if you have a simple product or service, then you can start your online e-commerce store today and use the power of Digital Marketing to grow your online business with minimum investment.
Then shouldn't everyone be rushing to be starting their online business today?
But this isn't happening because people have several concerns with starting their online business in India like
What is the approximate cost of starting your eCommerce business

What are the legal procedures involved in starting your eCommerce business

What are the different models of eCommerce and the latest trends in the eCommerce industry

How to select a niche for your eCommerce business

How to start your eCommerce website in India

how to market your eCommerce website

Problems encountered in your eCommerce business
If you get an answer to these queries today, an eCommerce business might very well be the right investment option for you to grow your wealth.
Don't you agree?
Isn't eCommerce the smartest way to grow your wealth in the current times?
If you agree and want to learn more, read on…
Latest eCommerce Trends 2021
eCommerce is a fastly growing industry.
More Brick and Mortar stores are looking to digitalize their business every day. With the onset of the pandemic, this number has only been growing more each day.
We will now look at the latest eCommerce trends in 2021 that will make the future of the eCommerce industry.
Social Marketing:
Social commerce uses social media to promote the eCommerce store. Adding relevant testimonials and user experiences on social media builds brand image and trust and thus increases the sales of the brand. The success of a company's social commerce will depend on how much the customers interact with the brand on social media. Many social media platforms like Facebook, Amazon, and WeChat provide social commerce by integrating a buy button.
Ordering through voice search
Voice search is becoming the new trend and optimizing your eCommerce store for voice search can put you over the competition and help you attract more buyers. Several Brands have started making eCommerce apps for voice assistants. Through these apps, you can now order online products through a simple voice message.
Image Search and Ordering
A new upcoming e-commerce trend is image shopping, where users can point their camera to a particular image and buy it online from an eCommerce store. Sounds amazing right? This new amazing trend is called photoshopping. For example, Pinterest has partnered with several online eCommerce stores so that when you click an image, you are provided an accurate product description and can also order it from the store.
Chatbots as personal assistants    
Chatbots are becoming the latest trend in eCommerce shopping. Ai–powered chatbots are taking care of a large number of activities like recommending the products, creating an invoice, and billing the customer. They take care of a variety of activities like answering simple FAQs to customers, sending reminders for abandoned carts, and improving engagement through product guidance.
Blockchain-based eCommerce platforms
These platforms essentially are e-commerce stores where the transactions of buying and selling products is done through  cryptocurrencies. Some of the eCommerce startups that have been started using this model are Monetha, Aora, Colu , Rate, and Zeex.
eCommerce brands can manage the security of their users by using the decentralized architecture of blockchain technology. Moreover, the disparity in currency rates is avoided for international transactions ass they are all traded with a common cryptocurrency that has the same value across borders.
HyperLocal Marketing
Hyperlocal Marketing essentially means marketing your physical store online to target customers only within a certain physical distance from your physical store. This essentially means you are targeting people on Google with "Near me" searches. Hence, this business model is more applicable to brick and mortar stores looking to have viable online marketing in place to target their local customers.
This model is quickly developing in India with the arrival of players like Dotpe and Suprasoft who offer to build an online business model for brick and mortar stores. So online stores built using Dotpe can consider a HyperLocal marketing model to increase their sales at their Kirana or physical store.
How to Start an eCommerce Store in India
Now, if you have been convinced that eCommerce is the latest trend and is fastly evolving. what we need to do next is to build a simple eCommerce store to get started with your online store. Once this has been set up, you can incorporate any of the existing eCommerce trends to market your store in a better way.
Decide on your eCommerce model.
The first step to start your online business is to decide on your eCommerce model. Are you going with a single vendor product or a multiple vendor product? Amazon, Flipkart, etc., are examples of multiple vendor products whey they sell different products from different vendors.
If you are just starting out and your budget is limited, it is advisable to go for a single vendor product, market those products, make revenue, and then include more products in your store. The administration and handling are also easier as you need to deal with just a single supplier and get your wheels running.
Select the products for your store
The next step is selecting the products that you are going to sell. You can do a simple eCommerce SEO search by finding which are the products that most people are buying online by checking the volume of "buyer intent keywords" and the competition. If a particular product has high search volume and less competition, then it is ideal that you could target that product for your store.
You can also get these numbers by finding the trending products sold on websites like Amazon, eBay, and Flipkart and search for the latest trends on websites like Google Trends.
Build an eCommerce Store using Shopify or woocommerce
There are several ways to build your online eCommerce store but the two most popular ways to get started are by using Shopify or Woocommerce. When you do not already have a domain name for your store and you are a starter and want all the technicalities of setting up your ecommerce store handled for you, then Shopify is the best option. Through Shopify, you can build your online store using amazing themes and the entire process of shipping, payment processing, and handling invoices are taken care of for you by several apps within the Shopify network. However, the downside is that you need to pay a monthly transaction fee to maintain your ecommerce store, and also extra charges are incurred with certain transactions.
The other option is to build your store using Woocommerce. If you already have a domain name and are familiarized with the use of WordPress websites, then you can go for this method for building your online store. Here, you have control over how you set up your online store and this can be done by setting up an eCommerce hosting like Bluehost and then installing several plugins to set up and start transacting with your online store.
For a more detailed guide on how to set up your website using Woocommerce and the difference in features between Shopify and Woocommerce, check it out
here
Market your products online
Once you have set up your eCommerce store, the next step you need to take is marketing your products to help people discover your brand. You have a variety of options available to do this and with the power of digital marketing for eCommerce, you can use a combination of strategies like Content marketing, Facebook ads, Google Ads, and Instagram marketing to start selling your products online. This is the most important step of your eCommerce business to start generating revenue and we will explore each method of marketing your store in more detail.
Content Marketing for your eCommerce store
Once you have built your eCommerce store, conversions are the key to your success. First, you need to build traffic to your store and then convert this traffic into Leads and Sales. As per Neil Patel, content marketing can increase your conversions by almost 6 times. Content is the engine that drives all your other marketing efforts. Hence investing in a good content marketing budget for your business is something that should be on your bucket list.
Content Marketing also builds the right tone for your brand and helps your audience connect with your brand. Once you get their trust through content marketing, it is easier to convert leads to sales.
There are a number of Digital Marketing tools that you can use to capture the information of people who visit your website. Once you have this data, you can engage with them through email marketing to tell them about the latest offers and new products on your store and get them to start making conversions.
Create product guides on how to use your products and their benefits. For products where the look and the feel of the product is a major factor in consumer purchase, help them experience this through video reviews and testimonials.
Sharing customer stories on Social Media is another great way to market your store. Design on any one social media channel where your target audience would engage maximum with your brand and start featuring your products there with a "Buy" link or try to increase customer engagement which in turn can boost your sales.
Experiment with different content strategies and stick with the one that works best for you. At the end of the day, it is not the content strategy itself that matters but the frequency and timeline of regular posting which helps you get conversions in the long run.
Using Facebook Ads for eCommerce store
Facebook Ads work best for e-commerce companies. When you post on Social Media, you have no guarantee that the right audience is watching your post because their interests might be different. Hence, using Ads is highly important because this means, that your content is shown to the right people who will be willing to purchase your product. To set up and run Facebook ads for your e-commerce business, we need to do the following.
Setup a Pixel on your website:
A pixel is nothing but a piece of code on your website that can track people who have visited your website. This makes it easier for you to retarget these people the next time they visit your store. You can set up a Facebook pixel by going to Facebook, logging to Events Manager and then click on "Create a Pixel" on the Pixels tab.
You will be given a piece of code that needs to be incorporated into the header of each page of your website. This can be done through a simple plugin on your WordPress website like HFCM. Once this is done, the pixel has been set up and all the users who have visited your store can be retargeted.
Target the Right people on Facebook
As the pixel has been set up, we now need to create an ad and show the ads to the right people to help create conversions. Facebook has a large audience. Hence, narrowing your target audience as much as possible can help you create more conversions as this means you are targeting the exact set of people who are interested in your product. You can select your target audience under the Interests tab where you can select people based on demographics, interests, or behaviors. You can also show a particular ad to a custom audience which can be set up on Facebook for people who have already visited your store. Alternatively, you can target people who have abandoned carts on your store by setting up events for "Add to cart". All the people who have actions triggered for this event but have not completed a purchase can be retargeted and emails sent to help them complete their actions.
Give Offers or Discounts
You can discount or offers to people following your page. This exclusive discount strategy sometimes acts to create more conversions. You can also create a Facebook 'Shop' page and integrate it with your Shopify or store using the "Buy" button.
Create Ads with the right sales copy
Create Ads with the right sales copy. Ads can be simple but need to address the pain points to make people click on your ad. Using attractive images and real photos in your ad makes people click on your ad more. Video Ads or carousel ads also work best on Facebook. It is always best to experiment with 2 or more ad copies and do a/B testing to determine which ad copy works best.
Google Ads for e-commerce store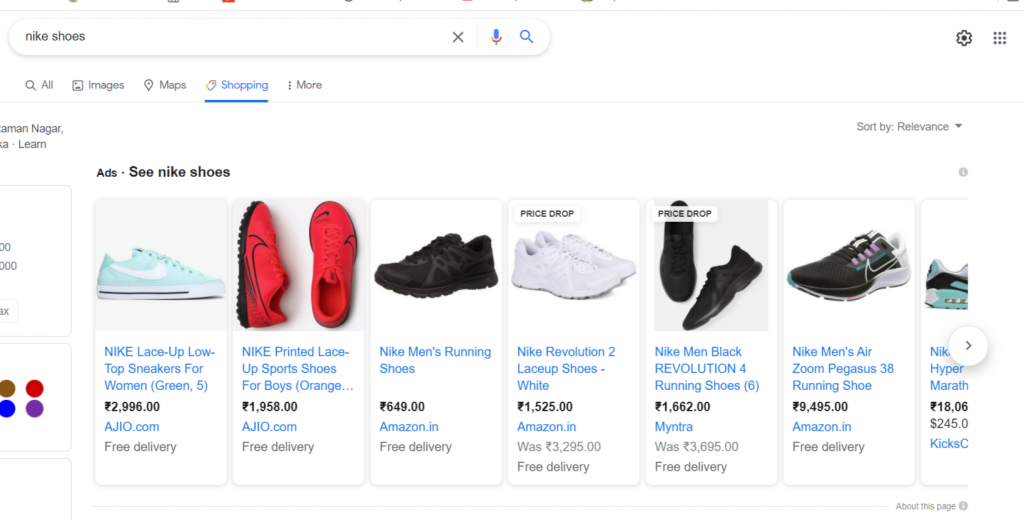 You can use Google Ads for your e-commerce store if you feel your products are searched for on Google. To start with, you can use Shopping Ads on Google instead of Serch ads as the CPC for search ads are highly competitive at the beginning.
To gets started, you need to create your product inventory list on Google Merchant Center  and create a campaign on Google Ads. With this type of ad, Google creates a listing of your product along with an image of your product so that potential customers can see what you are selling. Along with the image, the title, price, and store name are also displayed which give the user a good feeling about your brand so that when they click on your product, they become more qualified leads. We can create two types of shopping ads
Product Shopping Ads
These ads are created by Google based on just the product data submitted on the Google Merchant Center.
Local inventory ads
These ads are created by combining product data and inventory data submitted in Merchant Center
Getting a good CPC for shopping ads is much easier than on Search ads, hence it is recommended to start with these types of ads if you are just starting out to market your products.
Setting up Instagram Ecommerce
You can set up a shop on Instagram and start marketing your eCommerce store there by following the below steps
Confirm Eligibility 
If your business has a product to sell with a website and has the required licenses to sell your product, then you can set up a shop on Instagram and start selling your products.
Business Account 
You can convert your Instagram account into a business account on Instagram and then add relevant information like business hours, website, and contact information and you are good to go.
Connect to a Facebook page
You can connect to a Facebook page under the "Public business information section" and choose the Facebook page your Instagram account needs to be connected to.
Upload Product Catalogue 
You can do this by using the Catalogue manager or the e-commerce platform partner. You can use the latter option if you have set up your store through Shopify else you can go with the standard catalog manager and add your products through Facebook Business Manager.
Submit for review 
Once all your products have been set up, you can now submit them for review. Select "settings" in your Instagram account and signup for shopping. You can also check the status here to see if your account has been approved for selling products.
Turn on Shopping 
Once your account is approved, you can go to settings -> shopping and then connect your catalog to your account. You are now good to go and can start selling your products on Instagram.
Using the
right hashtags
for your posts also helps you target the right audience.
Future of e-commerce marketing
By the year 2023, it is estimated that e-commerce sales in India will rise to 22%. Compared to the US and other markets, the e-commerce market in India is still at a nascent stage and has much scope for growth. The ever-increasing use of smartphones also gives rise to more trends like phone commerce shopping to look out for. with e-commerce in such a huge demand, the market will only become more competitive and crowded. It is still not late to join the race.
Hence, If you know the right way to get conversions and make sales, this can very well be the right investment strategy for you to make some money as a side hustle. If you are not very sure of the technicalities, you can also hire an e-commerce expert to set up a store and then drive ads to market your products.
If you already have a physical store, then it is highly beneficial to use hyperlocal marketing techniques to drive more local customers to your physical store but by using online marketing techniques.
So start your e-commerce store today and get selling.