Big Basket is a mega online grocery player that has revolutionized the online grocery marketplace. Big Basket was a Bangalore startup founded in 2011 and clocked gross sales of a whopping $1.1 billion in the financial year 2021.
We looked into the Big Basket Business model and found that it follows a unique business model that is different from that of its competitors Grofers and Peppertap. In this article, we will see how the Big Basket business model works and how it has emerged as a key player in online grocery retail in India.
How Big Basket Business Model Works
Big Basket
is a common household name these days to order groceries. Big Basket was founded by V.S Sudhakar, Hari Menon, Vipul Parekh, Abhinay Choudhari, and Ramesh in 2011. Even though many startups starting online marketplaces for perishable items had failed during this time, Big basket took a bold move and convinced their angel investors that this model could work and adopted an inventory-led model for their online marketplace.
Later, they started adding offline stores in 2016, and today, it currently sells over 18,000 products and over 1000 brands in 26 cities in India.
Big Basket
sells all kinds of groceries like fruits, vegetables, food grains, oil and masala, snacks, rice products, branded foods, eggs, and other household utilities, and Big Basket orders roughly come to around 1.5 lakhs daily.
It is not wrong to say that Big basket is one of the key players that has become a great motivating factor for other small businesses to emerge in the online eCommerce space.
Online Grocery Retail Business Plan
We will now look at the business models that are used by the online grocery retailers and then understand how Big Basket works.
Inventory Based Model
In this model, the company has its own warehouse and purchases inventory, and stores them in the warehouse. When the customers place an order, the goods are delivered from the warehouse in a time-based manner. The benefits of this model are the customers know what products are available and monthly orders and bulk purchases can be made using this model. The Products are delivered with the logo of the site irrespective of the vendors. This model requires more investment as you need to manage the inventory and also have supply chain management in place to handle perished goods. Big Basket follows this business model majorly.
Multi-Vendor Marketplace Model
In this model, the stock is not handled by the platform. Rather different sellers are listed on the website. When the customer places an order on the site, the website gets the products delivered from the suppliers to the customers through an internal logistics network. This model is both a win-win for the vendors and the marketplace as the vendors get the added branding of the marketplace and the marketplace grows as their vendors grow. Amazon and Myntra follow the marketplace model.
HyperLocal delivery Model
The hyperlocal model targets customers in a particular geographical area and essentially targets people using the "Near Me" searches. Here, the service provider acquires the products locally from nearby stores and delivers them locally to customers in a particular area. To establish a hyperlocal model, form a partnership with local stores and decide on a commission. Once you establish the partnership and set up an online store with their products listed, your business model is ready to work.
Big Basket
Business Model uses a mix of the Inventory model and the Hyperlocal model. In their inventory model, they use several warehouses to store products from which they are delivered to the customers when the orders are placed. As the Big basket supply chain is quite big, they also have a tie-up with local grocery stores to deliver products locally within a particular area based on the demand. They have a tie-up with 1800 grocery stores across India in the hyper-local model. They also procure perishables only when an order is placed thereby reducing wastage.
The big Basket Inventory model has made it stand out from its competitors as Big basket competitors have not explored the inventory model as much and have used only a minimum viable inventory model.
Their unique USP was delivery within 90 hours and they are able to deliver over 85% of their product ranges within 3-4 hours.
BigBasket has also started offering bbinstant – India's first unmanned cashless smart store, with vending machines installed at apartments. People can order groceries on the BB app and then get their products from the nearby vending machine. It has also introduced daily bbdaily where they deliver fresh milk and groceries between 5 am to 7 am.
BigBasket Builds on B2B businesses
The Big Basket Business model is constantly evolving and this is what is needed for the success of a business. Bigbasket has entered into a partnership with cloud-based technology retail company SnapBizz through which around 2000 Kirana local stores are now partnered with Big basket for supply chain and inventory management. The entire system is automated wherein when the products hit a minimum average on a Kirana, Big basket automatically replenishes the store with the products. Also, since the entire supply chain and inventory management is taken care of by Big Basket, the Kirana stores need not deal with several individual distributors for inventory and payments.
This is a win-win situation for Big Basket as when they source their products through Kirana, the overall sales volume increases. Also with the analytics now available, Big basket has information on which products are selling where and can accordingly restructure its supply chain management.
Big Basket Competitors
The Main competitors of Bigbasket are
Grofers
and FreshToHome. E-commerce giants Amazon and Flipkart are also late entrants to the online grocery retail business. Swiggy and Dunzo work to fulfill fast orders from local stores whereas Grofers caters to the needs of the mass Indian market and it lowers cost by a combination of private label products and efficient supply chain management.
Grofers works on a commission-based vendor model like amazon, where it charges 8 to 15% for every order placed through the platform. It also makes sales through its private label products and this accounts for 20% of its total revenue.
On the other hand, Big basket makes profits by catering to premium brands with good margins.
Some of the brands they deal with are Fresho, Nandini, Kelloggs, 24 Mantra, Saffola, etc.,
Big Basket Marketing strategy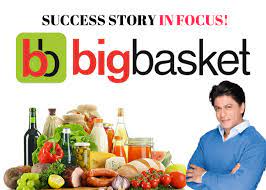 Big Basket's business model mainly uses a mix of Digital Marketing strategies to market its products.
Search engine optimization 
refers to optimizing certain keywords so that when users search for these keywords, your website comes on top of the search results. Some of the most popular keywords for Big Basket are online grocery shopping, grocery online, online grocery, and big basket Pune.
Other competitors also bid on certain terms so that their websites are listed online for these search terms. These are suggested bid words for Big Basket which Big basket can capitalize on through SEO so that when these keywords are also optimized, then Big basket also gets this added traffic to their website.
Social Media Marketing
is essential to any business particularly to e-commerce businesses these days. The big basket has completely understood the importance of this and it has a presence in major social media sites with around 150k likes on Facebook, 4k followers on Instagram, and 23k followers on Twitter.
Influencer Marketing
is yet another strategy Big basket uses to endorse its products. It has none other than Shah Rukh Khan himself as the brand ambassador of Big Basket. Apart from that, it also uses social media influencers like Yash Chopra and Pratik Sisodia to endorse its products.
The Future of BigBasket
With so many competitors in this space like
Grofers
,
Amazon
,
Flipkart
, and several hyper-local models emerging, Big Basket has now entered into a partnership with Tata Group with almost 60%stake in BigBasket.
There are also speculations that the company might be listed public soon.
It is said that the expansion of reliance industries in the online grocery business might have prompted TATA to take this move. Having said that, the majority of the grocery purchases are still made at local grocery stores and we are yet to see much innovation and competition in this space.
A recent survey by Bank of America showed that the online grocery retail business could be well worth $12 billion by 2023.
Remains to be seen how the Kirana stores are incorporated into this emerging model and how Big Basket and Tata partnership might work to continue being a leader in this space.