Did you know that the top spot on Google can capture a staggering 33% of all the traffic? In a sea of articles flooding the internet daily, failing to secure a place on Google's first page could mean missing out on a substantial chunk of potential visitors.
Imagine this: you've meticulously fine-tuned your website for SEO. The keywords are strategically placed, and your content is tailor-made to attract your ideal audience. But, here's the catch: your visibility on search engines, like Google and Bing, can be influenced by a myriad of factors.
If you find yourself in this situation, the first step towards enhancing your organic reach is to obtain an SEO audit report. This comprehensive report zeroes in on your website's weaknesses and provides you with a detailed plan of action to elevate your search engine rankings.
An SEO Audit Report addresses four main aspects for your website. Technical SEO, right Keyword analysis, on-page SEO, and off-page SEO factors. An ideal SEO audit report will contain the following.
It helps you understand the current status of your website with data from tools like Ahrefs webmaster and SEMRUSH. It also highlights the SEO weaknesses like indexing errors in your website.
This report will contain an audit of all sitemaps, directives, errors in structured data markups , site speed optimisation and other technical issues that need to be addressed.
On-Page and Off-Page SEO Report
This would contain a full list of all the pages in your website with missing titles, descriptions, incorrect URLs and image sizes which need to be optimized for better search engine rankings. This report also includes your current backlink profile for off-page SEO.
Content Optimization Report
This would include the current status of the content pages in your website with vital SEO metrics like keywords ranking, page rank, internal links, indexation status and more. This report would give you a head start on the changes that need to be done to help your content rank better.
This report will give you an idea of the actions to be taken to improve SEO in your website with a projected estimate and deadline that will correct all the SEO issues discovered in the previous reports.
The components of an SEO Audit will help you understand what exactly goes into an SEO Audit and how it can benefit you. Alternatively, you can also use this checklist to perform your own manual audit of your website. s
 Many people start doing SEO wrong. They start with creating content or backlinks for
their website when technical SEO should be the first thing to be addressed. If
your pages are not getting indexed or users are having a bad UI experience, then no amount of content or backlinks can help your website to rank.
A technical SEO audit report will help you uncover the technical issues in your website like
indexing issues, crawl errors, page speed issues and inappropriate redirects.
An ideal technical SEO audit should contain the following information.
·       Crawling and Indexing issues
·       Status of Robots.txt and your XML Sitemap
·       Page speed and image loading issues
·       Design optimization of website for better user experience
·        Redirect and 404 errors 
·       Technical On-Page elements
On-Page SEO is about optimizing the titles, meta descriptions, headings, alt tags and images in your website. Unless people click on your headings, you will not get traffic to your website. Hence, all your titles and descriptions need to be SEO optimized to help attract the right traffic. 
A detailed On-Page SEO report should address the following
·        Duplicate and missing title tags
·        Missing Meta Descriptions
·        Images and URLs to be optimized
·        Canonical tags
·        Missing Alt Text for images
This step is a highly important aspect of SEO. First, you need to question if you are targeting the right keywords to attract your target audience. Many new businesses start with targeting low-competition keywords that do not add any direct value to their business. If the traffic generated through the content does not convert into leads, then there is no point in doing SEO. Hence, care should be taken to select the right keywords that are easier to rank, and at the same time, bring relevant leads to your business.
Based on your site architecture, proper internal linking and backlinks is a must to improve your SEO score.
Backlinks  increase trust and credibility of your website over a long period of time. Acquiring high-authority backlinks through guest blogs and PR activities can in turn affect your ranking and improve your organic reach.
A competitor analysis report through keyword research tools like AHREFS and UBERSUGGEST can help you identify a list of websites that you can target for backlinks. However, building backlinks is an ongoing and gradual process, which only gets better with time. 
Find SEO weaknesses in your website
There is no point in working on your SEO strategy until you understand where you are going wrong. For example, creating blog after blog is not going to help your business when you are targeting the wrong keywords or your on-page SEO is faulty.
Hence, a proper SEO Audit can help you understand where you stand with respect to the different areas of SEO and develop a comprehensive SEO strategy that works on all the different areas of SEO. 
Search engine optimization is an industry that is constantly evolving. What was an accepted SEO practice sometime back is no longer a good SEO strategy now. For example, a couple of years ago, a common SEO practice was buying links to your page. However, as this is no longer acceptable, removing these toxic links can improve the ranking of your website.
Also, Google's Helpful Content Update in recent times has changed the way content is written. With this update, blogs that help users answer their queries rank better than general informational articles. Hence tweaking your content strategy to answer the pain points of your target audience is a major ranking factor, instead of keyword-stuffing in your headlines and content.
Target The Right Keywords
It might come as a surprise to most clients when they find out what keywords they have been ranking for.  You might also rank for additional keywords apart from the keywords you have been targeting. If that is the case, an SEO Audit report based on competitor analysis will help you to refine your strategy by picking the right keywords that can increase qualified leads.
Also, sometimes you might be getting traffic to your website without any conversions.  If this is the case, an SEO audit report can help you identify the right mix of transactional, informational and commercial keywords to be used to further the goals of your business. 
You might sometimes have direct SEO competitors in your business who might be ranking for some keywords in a better position. In this case, you can study their website to understand what they are doing better than you, and incorporate those changes to improve your SEO ranking.
For example, let us assume you are ranking for a particular keyword,  "content audit" on the second page of Google. If you analyze the SERPs on the first page for the same keyword, you may find that both you and your competitor have provided the same content depth, but you have lesser backlinks than those results.
Hence, by analyzing your competitors, you came to know which aspect of SEO needs to be improved for your page. 
A competitor analysis report thus can also help you get similar insights into your content strategy and help optimize it for better ranking. Also, you can discover new backlink opportunities based on your competitor's report. 
Building a website is a blend of science and art. Once your website is set up and you start putting out content after content, you sometimes overlook the basics.
Some questions that you need to ask are
·       
Are all the links to your services easily available to your
customers? 
·       
Is the blog section easily accessible?
·       
Have you displayed your portfolio for your prospective clients?
·       
Is the "Contact Us" page SEO optimized for Local businesses?
·       
Are the links to join your newsletter displayed in the right place
on your website?
·       
More often than not, most websites need some
optimizing to be done on some of these points. 
An SEO audit report will help you discover these structural, navigational and functional defects in your website and help apply these changes to your website. Resolving this will also instantly improve the usability of your website and make your customer experience much better. 
Aside from technical aspects and keywords that your content should target, an SEO audit can analyze your content quality using data such as content length, missing keywords, headers like H1, H2, H3s and image sizes etc. 
Audit specialists will also be able to identify what kind of content works better for a particular niche. Hence, by using this information, you will be able to craft a better content strategy that can bring in more traffic, leads and conversions.
Comprehensive checklist of actions to improve SEO
With an SEO Audit report, you can build a customized strategy for success. This is the most important stage where you are given a comprehensive list of actions to undertake based on the weaknesses in your website. 
The list of actions might be something like this.
·        Corrective actions to improve Technical SEO like updating Robots.txt, installing plugins like WP Rocket, Cloudflare, Removing toxic links etc.,
·        Changes to On-Page SEO like creating missing meta titles, descriptions, optimizing image sizes etc
·        Recommended Keywords to target for your website
·        Recommended changes to your content strategy like better internal linking, better posting frequency and change in tone and style of content.
·        A strategy to build backlinks based on your competitor report.
How Often Should an SEO Audit be Done ?
An SEO Audit should be typically done at least once or twice a year if you are looking to improve your rankings.
It is also ideal for new websites as it will highlight areas of improvement and give them a structured plan to work upon. 
Even if you do not have the budget to hire a dedicated SEO professional, you could get an SEO Audit report done and implement the changes at your own disposal.
This is a more cost-effective way for small businesses as they might not have the bandwidth to hire a full-time SEO professional in their initial stages. 
Best Free SEO Audit Tools
Google Search Console and AHREFS Webmaster Tool
Once your website has been configured on GSC, the overview report is sufficient to give you important details about your website like the total clicks, impressions and CTR that your website has received over a period of time. It also provides useful information like the top queries for your website, ranking keywords, pages with indexing errors and the devices and countries from which you are getting maximum impressions. 
It does not just highlight issues but also helps you run a LIVE page test which helps resolve any site indexation issues.
The AHREFS webmaster tool (when connected to GSC) also provides a similar report with the crawl log and the top technical SEO issues to be resolved.
SEMRUSH provides an improved SEO Audit Report with the ability to crawl sites, check backlinks, track your site's organic ratings and also give you a complete overview of your website.
A downloaded SEO Audit Report from SEMRUSH will have the following information.
Organic and Paid Search Rankings

Top Backlinks, Anchors and Top Ranking Keywords

Top Competitor List and Competitor Position Map

Top Indexed Pages for your site

Paid Search Results
Hence, a SEMRUSH audit report can give you a complete overview of the website's SEO positioning including the keywords, competitors, content strategy and paid ads reporting.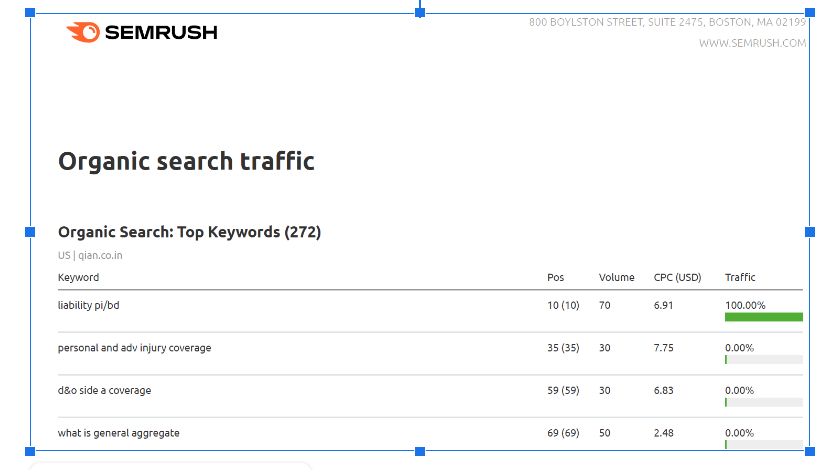 Screaming Frog is your go-to tool for a complete technical and on-page SEO audit. Also, it can crawl any website up to 500 pages absolutely free and pick up any issues from duplicate pages or redirects or issues with metadata. It is also useful for getting a complete on-page SEO audit report with the links that need optimization for the right meta title, descriptions, image sizes and URLs.
You can also combine reports from these three tools to create a comprehensive SEO Audit report for your website.
Don't Underestimate the Power of an SEO Audit
Though the process of getting an SEO Audit can be daunting, it is a great way to save a lot of time and effort in the long run.
Until you get a SEO Audit done, you will not be aware of the weaknesses in your website and might even be repeating the same mistakes. Hence a SEO Audit is of utmost importance and it helps you discover easy optimization mistakes that can be prevented.
What's more, a deeper understanding of your keywords and organic search rankings with help from your competitors is going to give you a detailed SEO strategy to ace those Google rankings.
Where can I get an SEO Audit of my website
Before you get an SEO Audit done, you must be sure about your exact goals for implementing SEO. If you know beforehand what it is you are hoping to achieve, then the SEO audit can give you a better strategy to achieve your business goals and help you in the long run.
For new businesses, we are also offering a LIMITED TIME offer for a free SEO Audit.
Mail us at [email protected] to grab your offer today.